Sapphire Spas,

Changing The Face Of

Swim Spas in New Zealand

With State Of The Art Spa Solutions!


From quite some time now, swim spas have become incredibly popular in New Zealand for all the good reasons. A swim spa in New Zealand not only offers the benefits of a hot tub with its hydrotherapy features, but also lets you enjoy a great time with family in your personal backyard swimming pool.
If you are planning to get a swim spa installed in your New Zealand home, then you might only want to go with the best spa company in town. This is where we come to the scene! At Sapphire Spas, we are a leading Australian owned spa company, manufacturing the finest quality swim spas and pools all across our dealership stores in New Zealand and Australia.
With years of experience in the spa industry, we know what it takes to come up with innovative and user friendly swim spas and pools for our clients based in different parts of New Zealand. We use premium quality materials to manufacture the best in class outdoor swim spas that pass the test of time in terms of both performance and durability. At Sapphire Spas, we not just help you select the perfect swim spa for your New Zealand property, but also ensure a smooth and quick installation process from start to finish. If you are looking for a cost effective solution for your home spa needs, then look no further than us at Sapphire Spas!
---

Our Range of

Swim Spas

in New Zealand


---
At Sapphire Spas, we bring you a wide range of swim spa New Zealand that are manufactured and designed using state of the art technology and modern design. Whether you are looking for a family sized swim spa or a spa pool that allows you to train for better fitness; we have it all! Here are our main three categories of swim spa New Zealand that offer you with an energy efficient and premium quality spa for your own backyard:

Sapphire swim spas are not only our largest spas but, because they can be heated, you can use them as a swimming pool all year round. Swim spas are basically a 24/7 gym in your own backyard with a hydrotherapy massage at the other end. You can swim, walk or run against the jets which are fully adjustable to cater for all levels of swim fitness. By adjusting your swim jets, kids will be able to swim strokes and hold themselves in the jet stream. A race to 'beat the jets' and be the first to the swim jet end of the spa is just as much fun!
myPersonalTrainer is our best selling affordable family swim spa. It's 4.5m long with massage spa jet seating at one end and a large open area at the other end which is the just the right size for the kids to jump around in the pool or for swim training and exercise against the 4 powerful swim jets.
VIEW ALL PRODUCTS
Dualzone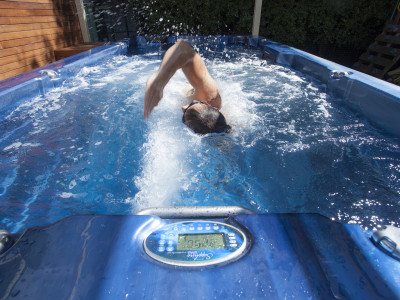 M6Dualzone

9 5980 x 2290 mm
M6Dualzone

9 5980 x 2290 mm
Learn More
Try one out
To provide a backyard pool that can be used all year round and is easier to maintain than the usual inground swimming pool, Sapphire Spas have designed our M6 range of swim spas. At 6metres long, these swim spas boldly take their place in your backyard as the solution to the old inground pool which is time consuming to clean and doesn't get used enough because it's too cold.
Our M6workout is an amazing combination of our most preferred seating at one end and a pool for exercise or play at the other. At 6metres long, the pool end actually becomes a 4x2metre small swimming pool and the 2m at the other end is dedicated to the spa seating.
If however, you'd prefer to spa separately to the splashing of the kids or swim jet action, please take a look at or M6dualzone which has 2 separate bodies of water. We've separated the massage spa and the swim spa so you can run them at different temperatures and enjoy a peaceful massage while the kids are playing in the pool end.
VIEW ALL PRODUCTS
Sapphire plunge pools are the ideal alternative to the typical backyard swimming pool BUT you can jump in all year round. With our economical heating systems and the smaller body of water, it's realistic to keep your plunge pool warm all winter and then cool it down for the summer months with a heat and cool pump.
We like to add a couple of swim jets at the pool end of for you to have a light exercise or for the kids to play in the jet stream. The wide steps & open plan layout of M5watersedge is ideal for child's play & toddler splashing.
Our plunge pools are completely factory built so can be installed in a day once your site has been prepared, either as a DIY project or with the help of selected tradesmen. If power to your site is limited then a plunge pool may be your best option as they don't require as much power as our powerful 4 swim jet models.
Our fully inclusive quote will detail every aspect of Sapphire's promise to deliver your chosen plunge pool, complete and ready to enjoy. We can quote & organise delivery including crane, if required.
VIEW ALL PRODUCTS