Swim spas and spa pools (also known as portable spas or hot tubs) are very similar. The difference with swim spas is that they're often larger than a standard spa pool and have an open area at one end without seating. Instead of seating, they have strong water jets that create a current strong enough for you to swim against.
What are spa pools?
Spa pools are typically around 2x2metres in size with loungers, arm chair, or bench style seating on all sides. With many different seating arrangements available, you're sure to find one that best suits your lifestyle. Sizes range from a compact 2 person configuration, right up to a 10 person spa for those of you with a large family, or who love entertaining.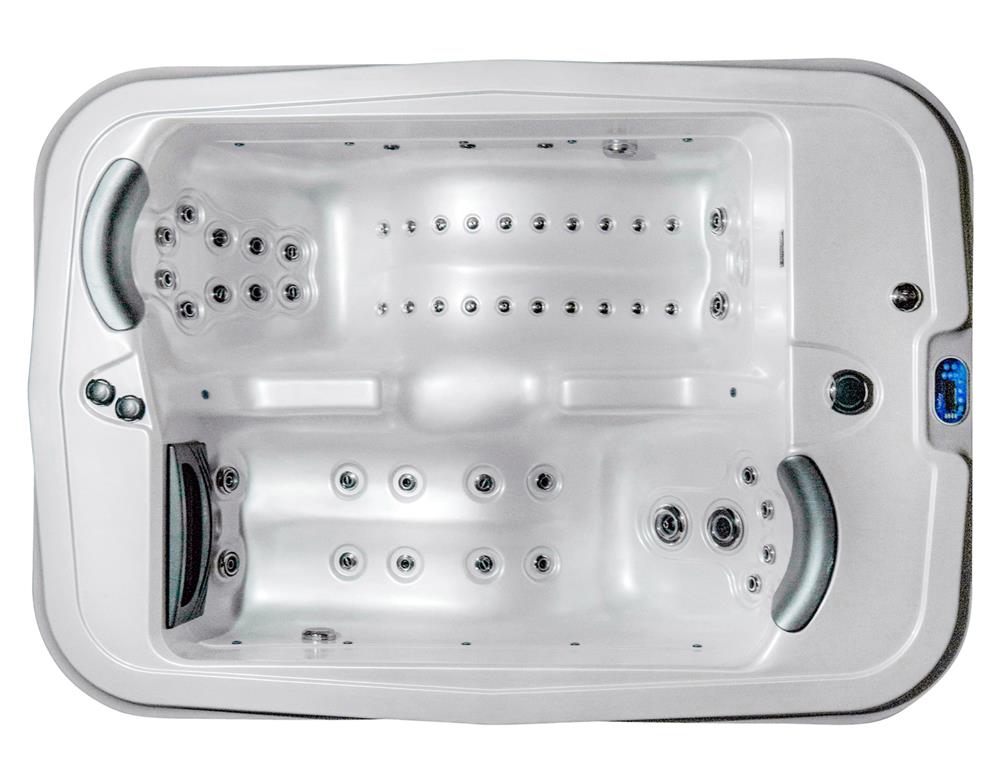 Some Sapphire spas have seats full of jets that we've positioned to target problem areas of the back, neck, and shoulders. Most 'lounger' seats treat hips and legs with a foot massage as well. Spa pools sit well on outdoor decked areas that flow comfortably off your house. There, they're easily accessible after a game of golf, a tough day at work, or a weekend at the footy.
A spa pool with twin loungers or hot seats are a cozy way to spend your date night, then on the weekend, the whole family can jump in for some quality time together. With a hot tub just outside your backdoor, you'll be tempted to jump in every day for both a therapeutic massage and some time out to reconnect after a busy day. These days, portable spa pools are built to become a part of your everyday life, rather than only heating them up on special occasions. Energy efficient operating equipment takes care of water maintenance and keeps your spa at your set temperature 24/7 for less than the cost of your daily coffee. So as you're thinking about where to put your new spa pool, dedicate an area that will become the hub of your home.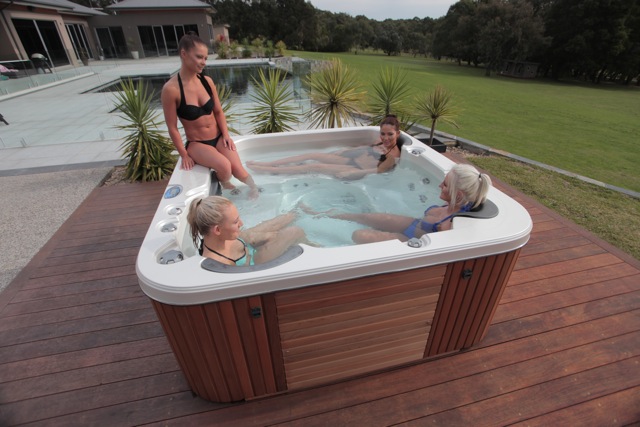 What is a swim spa?
Physically larger in size, our customers choose a swim spa if they have more space in their backyard and are after a hybrid of a spa and a swimming pool. Swim spas are something the kids can jump around in, but they also have the massage benefits and seating of a typical spa pool.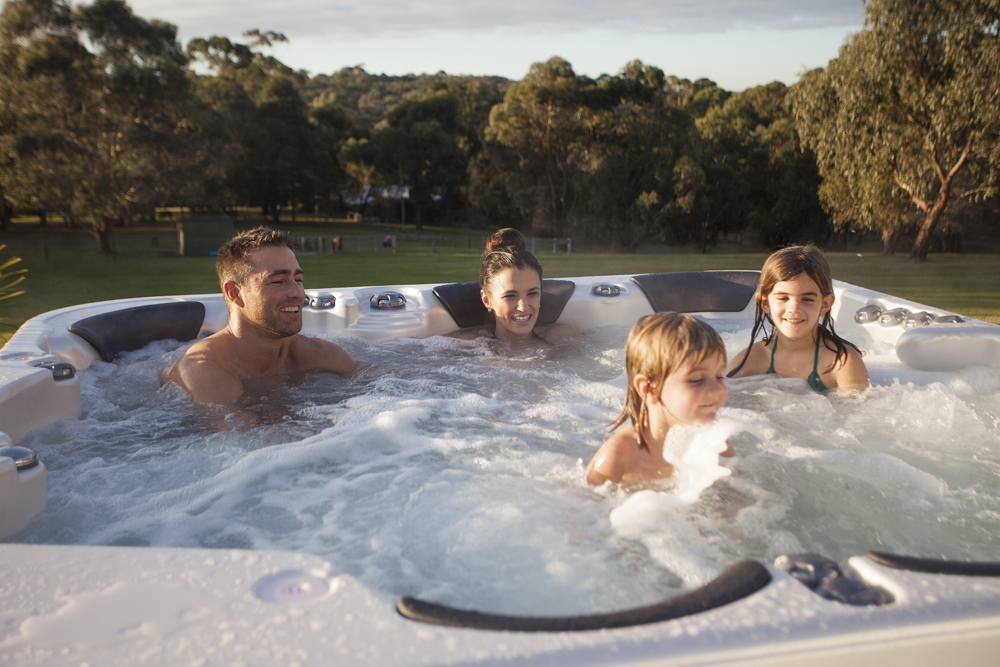 Swim spas usually only have seating at one end with 2 or 4 powerful swim jets at the other. Some of our swim spas have seating along the sides of the spa as well like myLapswim. This gives more room for people to sit and enjoy a massage but reduces the pool area at the swim jet end. A therapeutic spa and swimming pool combined into one, swim spas are designed with more space for exercise and play at one end and the benefits of hydro massage at the other.
Swim spas offer a wide range of health benefits: you can swim laps, jog, run, stretch, play, train, tone, and recover, all in your backyard aqua-gym.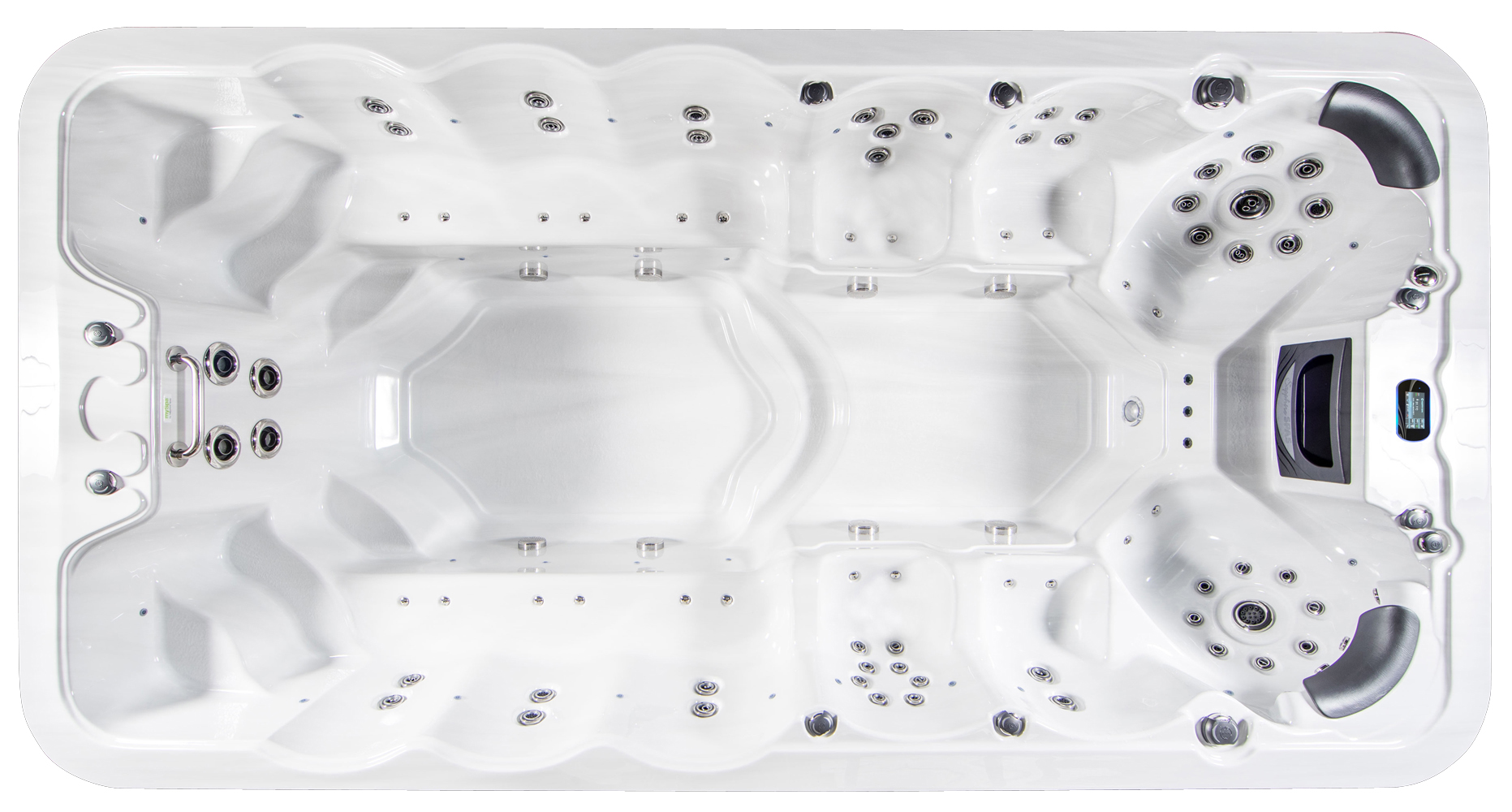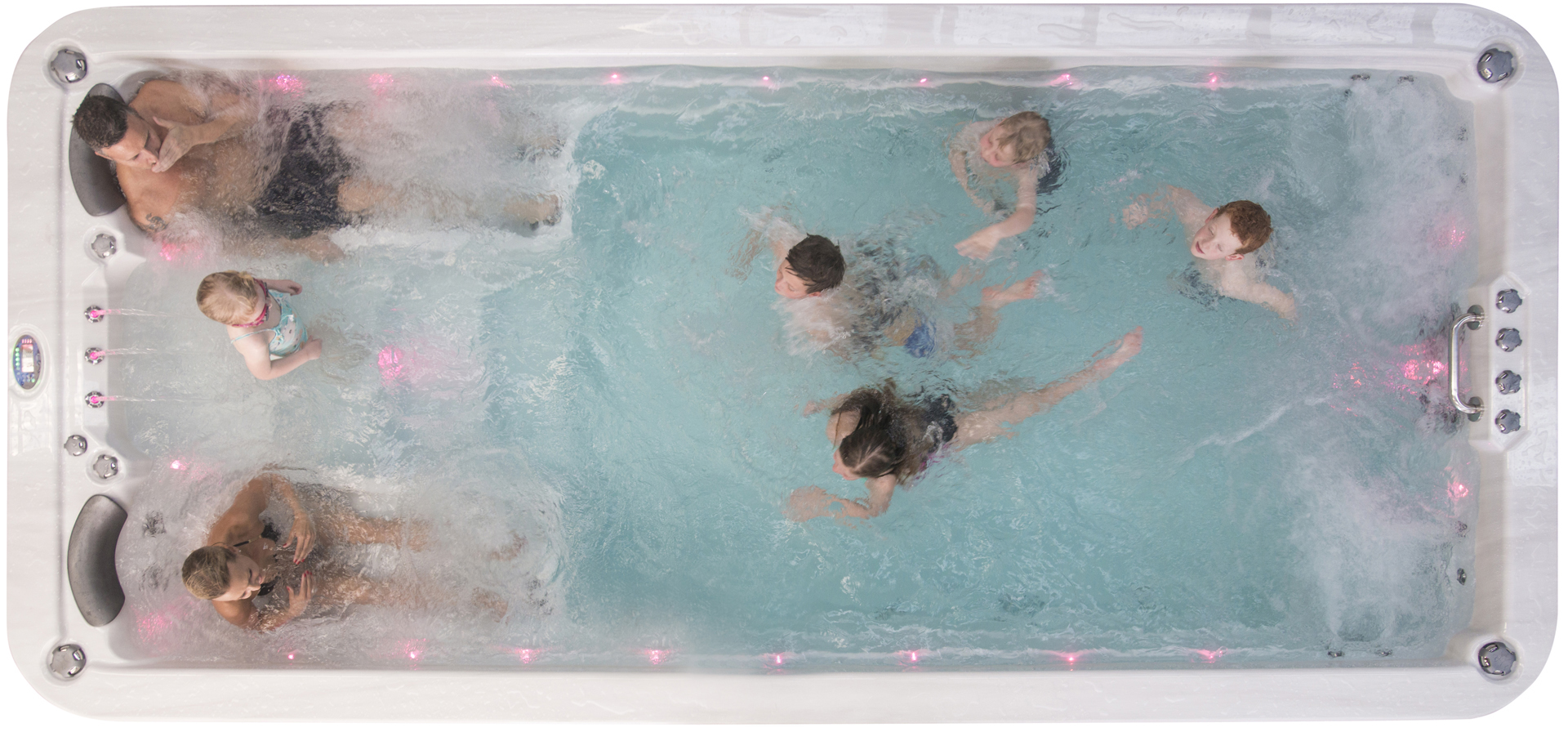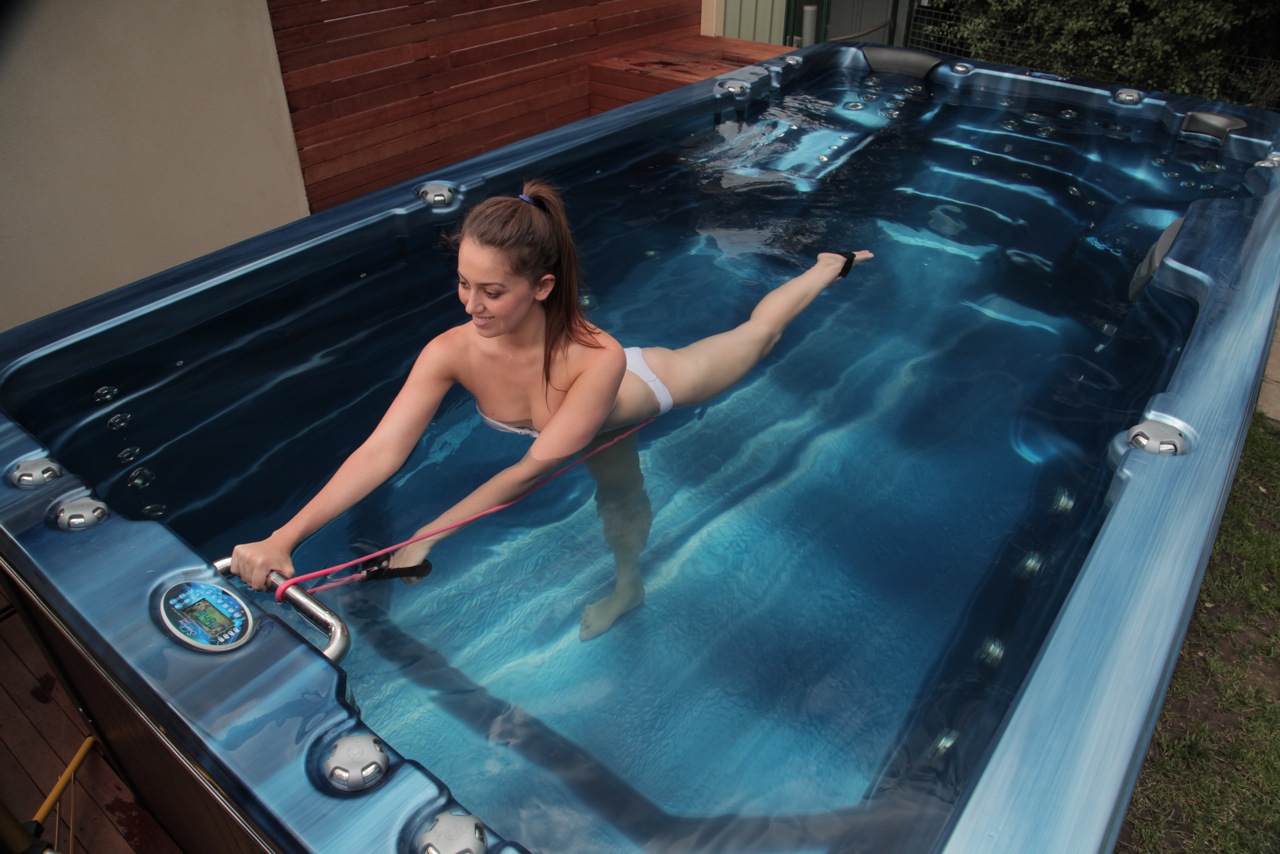 Why do I need a swim spa?
Unlike a swimming pool which can be quite costly to install and requires a large backyard, swim spas offer this all-in-one portable package in a box that can be craned into position in an hour. You would usually work your entire backyard around a dedicated swimming pool area, but a swim spa will fit into a much smaller backyard or outdoor alfresco area. Swim spa dimensions range from 3.5m - 6m long, and are usually just over 2m wide.
Exercise and family fun
Sapphire swim spas are not only our largest spas but because they can be heated, you can use them as a swimming pool all year round. Swim spas are a 24/7 gym in your own backyard with a hydrotherapy massage at the other end. You can swim, walk or run against the jets which are fully adjustable to cater for all levels of swim fitness. With some swim training, kids will be able to swim strokes and hold themselves in the jet stream, but a race to 'beat the jets' and be the first to the swim jet end of the spa is just as much fun! Active play of any sort is important for children, especially when technology is such a big part of their lives these days. Sapphire swim spas can be built at 3.5m, 4.5m and 5m long to fit into most backyards. M5workout is currently our most popular swim spa, feel free to call 0800 4 SPA POOL to view one in store. With our new m6 ready for production this year, this 6m long swim spa is similar in size to a traditional swimming pool but easier to maintain and more efficient to heat & cool.
Lower maintenance costs
In comparison to maintenance and heating of an average inbuilt swimming pool, swim spas are lower on running costs. The smaller volume of water is less maintenance to keep clean and swimming pools can't typically provide hot water for use throughout the colder months of winter. The inbuilt heater of swim spas can keep your water warm for continuous use and an additional external heat and cool pump will heat and cool your swim spa faster and more efficiently, saving you money on running costs.
Have a look at our massive range of spa pools and contact us or your local spa shop to sit in some to see how they fit. Many of our showrooms have a swim spas on the floor that you can sit in to get an idea of the size but if you let us know in advance we can fill one up with water to try out the jets as well. Contact Sapphire Spas or your local spa shop today and try one for yourself.
Sapphire Spas manufacture a high-quality product right here in Australia. Built tough for the great Aussie outdoors, your spa pool or swim spa will last, backed by our lifetime care commitment.