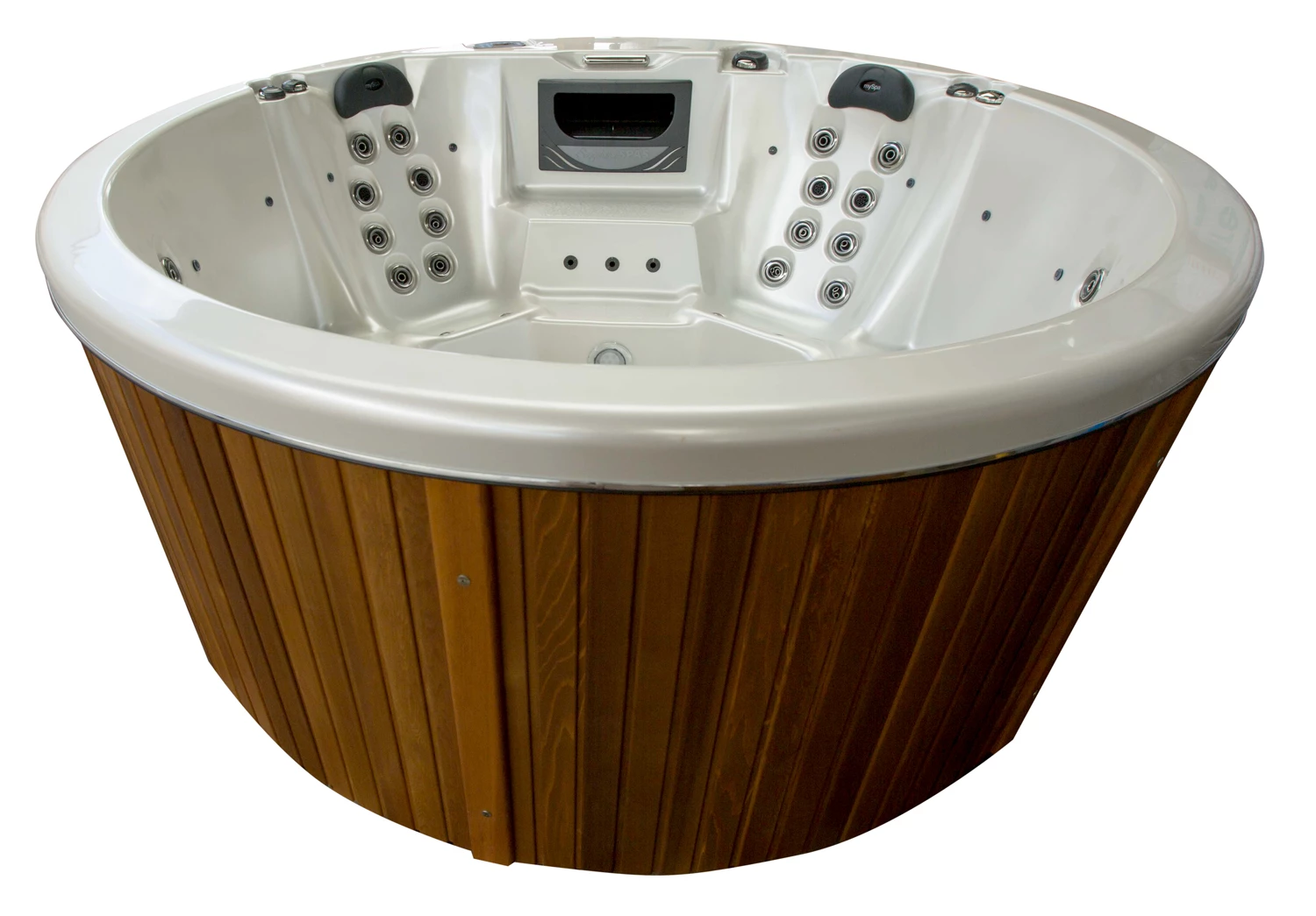 Hot tubs by Sapphire Spas
Some of you will call us asking for a hot tub; this conjures up images in your mind of a big round wooden tub sunk into the snow, filled with people. A spa pool is basically just the Aussie version of a hot tub but, for those who like to be traditional, we've created a round spa to replicate the look and feel of a true timber hot tub. myHotTub (link) is a 6 person (I'm sure you could squash a few more in though) spa with open bench seating around the side and a few jets to provide a gentle massage and water movement. As a slight upgrade from a traditional hot tub, Sapphire Spas have added 2 dedicated back massage seats for the perfect hot tub experience.
Traditionally a hot tub is simply a hot soak, without powerful jets and bubbles. With a Sapphire myHotTub, the choice is yours; enjoy a quiet hot soak or sometimes you may want to turn on the hydrojets for a therapeutic massage.
You may think of a hot tub as a winter activity; here's some information about how one of our hot tubs may liven up your Winter. When your swimming pool is too cool... enjoy some healthy outdoor exercise in your spa pool to help 'burn off' excess energy. Sapphire Spas energy efficient equipment heats your spa at the cheapest daily operating cost. Enticing all family members to spend quality time together, aqua play is the perfect way to develop a strong bond with your children whilst playing at their level. After a day on the snowfields, at the footy or competing in a triathalon, jump in your hot tub.
Why not also enjoy your hot tub throughout the summer months? Unheated and with the spa cover removed, your hot tub will drop to a moderate temperature for a cooling summer dip. An additional heat and cool pump can further lower the temperature if necessary in Australia's warmer climates.
Hot tub massage
Achieve optimum health and wellbeing
Although you can't claim the cost of a hot tub on your health insurance, you might save yourself a few visits to the doctor with a spa session each day? The warm water and hydro massage from a Sapphire HotTub may help with common health issues faced by many of us. You may even melt away a few kilos to help you lose any unwanted weight.
Most of us build up tension through our postural muscles and the muscles of our back, neck and shoulders. These muscles will often feel worse with rest; they actually respond much better to massage and movement to alleviate stiffness and support the healing process. Our swim spas provide a supportive environment for gentle remedial stretches and exercise, protecting muscles with the warm water of your spa.
Spa jets can also be powered up, creating resistance to target muscles and joints that need work to regain strength. The fully adjustable resistance from the bank of swim jets creates instability, to engage core muscles. Core strength will help correct your posture, realign your frame and provide a healthy body to support you throughout your daily life.
Neck and shoulder massage system
Our wrap-around jet configuration targets pressure points of the neck & shoulder areas; reaching deep into muscles where tension is often held after a long day at work. Four powerful jets, that can be individually adjusted for water volume & flow direction, provide a therapeutic massage when it's time to relax.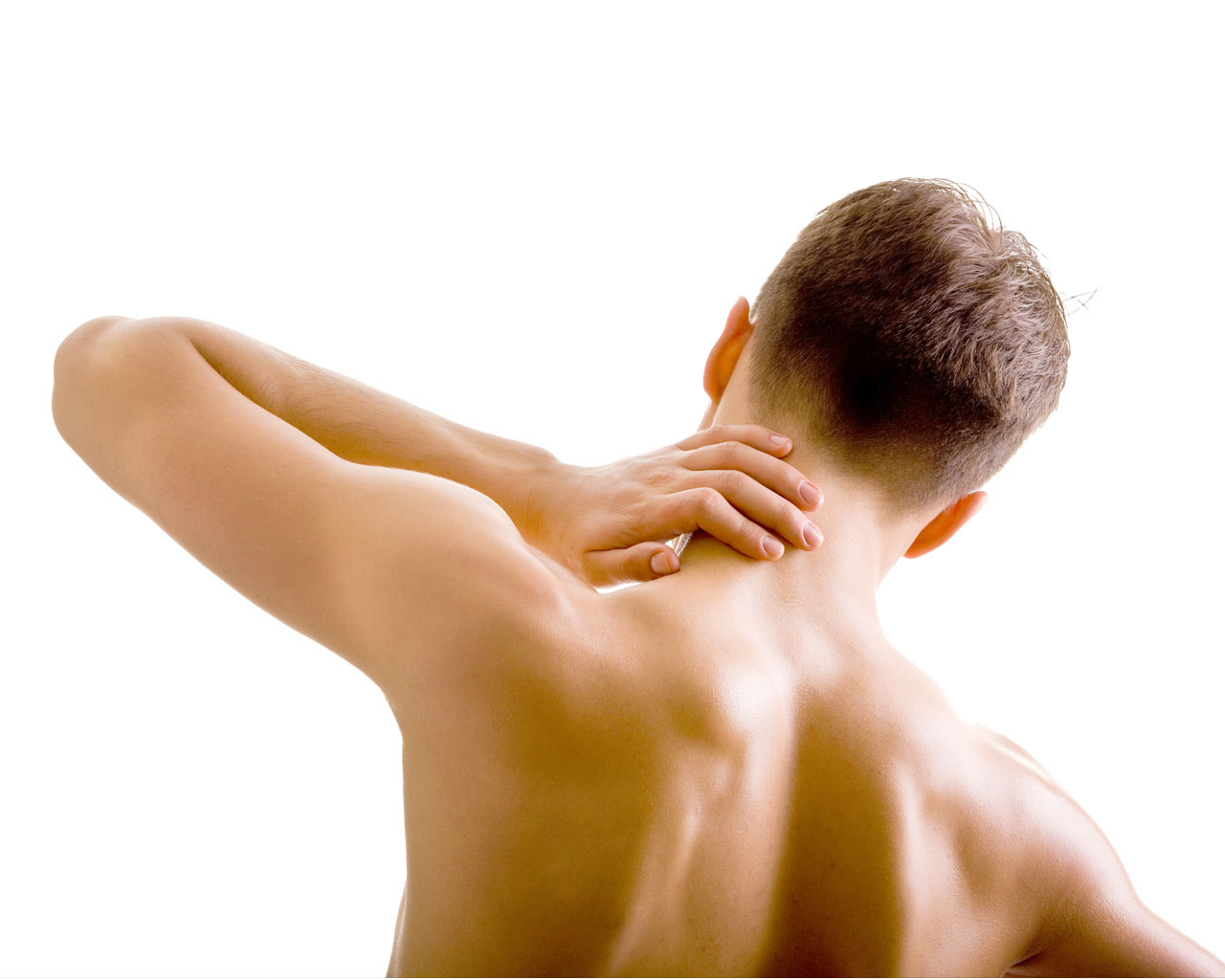 Reflexology footcell
Based on the theory that stimulation of pressure points within the soles of your feet will benefit your entire body, we have strategically positioned jets to create the ultimate massage system. Whilst supporting your feet & lower legs, our 'at rest' angled foot support will treat your aching feet to a 'foot rub' that never has to end.
Oxygendetox 'bed of bubbles'
Together with the powerful hydrojet massage, this air jet system relaxes, not only your muscles, but your entire body, nervous system and even your mind. It also promotes healthy circulation, stomach digestion, lung function and can help your lymphatic system get rid of toxins and waste which may reduce the appearance of cellulite.
Reduce back and neck pain
Immersion in water substantially reduces the weight-bearing effects of gravity on the lower extremities and spine. Back and neck pain can be significantly reduced by the turbulence of your spa water as your body is supported in a weightless state by the aerated jet streams.
Arthritis
The warm water of a spa pool is a safe, supportive aid to relieving the pain and stiffness of arthritis. Your body becomes almost weightless as it's submerged in water, helping to ease discomfort caused by stiff joints, keep them moving, increase their range of motion and maintain muscle strength.
Diabetes
An increasing percentage of our population deal with the effects of diabetes on a daily basis. Studies show that physical activity can help control your blood glucose, blood pressure and blood cholesterol. If regular exercise is not always possible, a spa pool can simulate the beneficial effects of exercise.
Do you sleep well?
A good nights sleep is vital to our overall health and well-being and still, millions of people either do not get enough sleep or suffer from other sleep related problems. The warm water and relaxation effect of a spa pool may provide a natural remedy for a restful, full nights sleep.
Elderly and rehabilitation
With the assistance of our support bar, those of you requiring help with stability can still use a swim spa with confidence. Any exercise, stretch or mild cardio workout can just as effectively be performed whilst holding the bar, mounted in front of the swim jets, for support.
Although we've described our round hot tub model here, all of these health benefits can be gained from all spa in our Sapphire range. The shape, size, colour and added features, like LED lights and stereo systems, are the only things that differ. Create the perfect hot tub to suit your lifestyle, from a 2 person spa pool to our much larger swim spas, the choice is yours.
If you'd like to find out more about our of hot tubs, ranging in price from $5,000 - $50,000, additional information can be found here on our site. As well as downloadable product brochures and user guides, you can also browse our FAQ section and instructional YouTube channel. We are also available to talk via phone, email or the form on our Contact Us page. Whichever way you get in touch, we will be happy to answer any questions you have and help you find the ideal private pool solution for your outdoor entertainment area. At Sapphire, we aim to provide the best spa experience available!
Sapphire Spas have been manufacturing spa pools / quality hot tubs in our Melbourne factory for more than 15 years and can supply hot tubs Australia wide, through our partnership with your local spa & pool shop. They may have a few of our spa pool models on the showroom floor and should be able to guide you in the right direction. If you'd like to chat to us about your spa choices, please contact us today.