A spa is a perfect addition to any backyard to make it a great place to relax for any occasion. While Sapphire Spas offers a huge range of premium quality spas designed to suit any space, lifestyle, or budget we also offer spa accessories to take your experience to the next level. We have a great range of accessories available in as wide an array of options as our spas themselves.
Spa Covers and Cover Lifters
All of our spas come with lockable hardcovers included for your family's safety and convenience, keeping your spa clean and ready to use at a moment's notice. Lockable covers are designed to fold and be as easy as possible to get out of the way with minimal effort. However, if wanting to make it even easier there are several spa cover lifters available.
A spa cover lifter serves two purposes, the first is the namesake purpose, assisting the user to lift the spa cover off the spa. The second is providing a means to store your cover beside your spa, ready to easily put back on your spa after use. A variety of spa cover lifters exist from basic leveraged lift-assist designs to premium gas-strut assisted models that make your spa cover almost weightless. Take all the effort out of your spa use with a spa cover lifter from Sapphire Spas.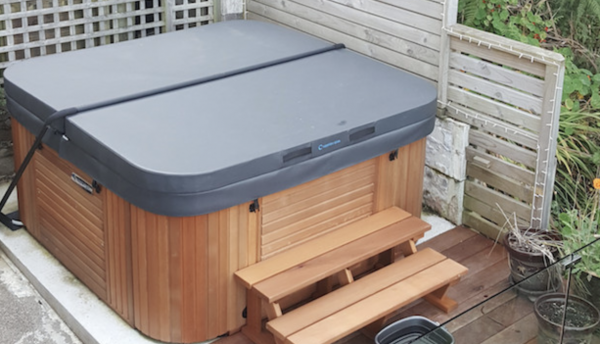 Spa Steps
To maintain your spa's full enjoyment it is important that accessing it is as easy and convenient as possible. While the first part of that is to ensure you can quickly remove your spa cover with a convenient cover lifter, the second part is to be able to climb into your spa effortlessly. To make sure this is possible for everyone of any age, height, or physical ability Sapphire Spas offers a complete range of spa steps.
Standard pine steps with cedar tops start at 630mm wide and are available in one or two steps high. The Cedar deluxe double-step is a full cedar step, 850mm wide for greater ease of use, and looks great too! If you need the extra height of a third step to access a swim spa, or just to provide easier access to a spa pool, our 1200mm wide Merbau steps are the perfect solution. All three are excellent wood-finish steps available in colours to match your timber spa cabinet, ask us at the time of sale about a step to match your spa.
If you need an option that fits the look and feel of a spa with a Duratek cabinet or other modern finish, the matching Durastep II and Durastep II Deluxe stairs are a perfect fit. Whatever your mobility level, spa cabinet style, and personal preference Sapphire Spas has spa steps to suit your needs.