Check The Space
Getting a spa is a huge deal. Congratulations. You have put in the hard yards and considered your personal needs and picked a design that you like. You have chosen the shell, cabinet and hardcover colour that you like too. While you waited for your spa to be made especially for you by Sapphire Spa's Melbourne factory, you have prepared for the installation of your spa. You have an installation site planned, a concrete slab poured, electricity arranged and all the permits you require. You have just had the exciting call from your local dealer and they have confirmed your spa delivery date. There are a few things you can do to make sure the delivery day goes off without a hitch.
Permits
You have ensured that you can legally have a spa at your residence. You have relevant permits for your spa, your concrete pad or deck is legally constructed and you know the post-installation certification with your local council. Note that some councils may allow you to operate the spa while awaiting final inspection and some may not and it is important to know your council's requirements.
The Location
Spas are very heavy once filled with water (and occupants). It is important that they are installed and supported correctly for user safety and to ensure the longevity of your spa. While Sapphire Spas builds Australia's toughest spas, to Australian standards and for Australia's harsh conditions, we cannot be held responsible if you install it on a substandard footing.
For a spa pool, you generally should have a 100mm thick reinforced concrete slab and for swim spas, it should be 200mm thick. It is good practice to check with a structural engineer that this is adequate for your soil conditions. For wooden decks, you must have an engineer inspect and certify that the installationsite is adequate for your chosen spa model.
Electrical Connection
It is very difficult to have electricity routed to a spa once it is in place. The electrical conduit should be pre-routed to one of your spa's electrical accesses point before installation. This means when designing your concrete slab, plan where the corners of your spa will sit and have your electrician run their cables beforehand. Make sure your electrician is aware of the spa model you have chosen and wires a circuit that meets the recommended power supply. Also, book your electrician to come and complete wiring it in on the day you expect it to be delivered.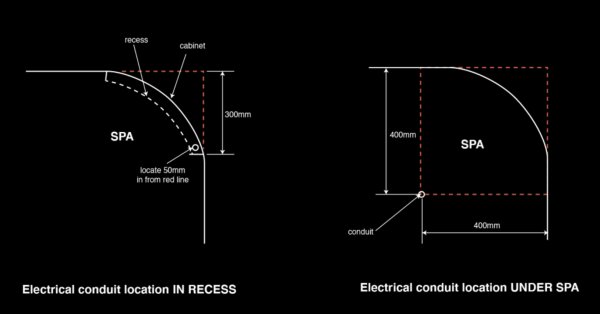 Fencing
In most states and territories, it is a legal requirement that you have a fence installed around your spa. This is to keep everyone safe as there are many hazards associated with spas. Choosing the right type of fence and materials will also ensure your spa has a long life. In most states, the minimum height for a pool fence is 1300mm high with no climbable objects within 1m of the outside of the fence. This is a regulation you should confirm with your local planning office before installation of a spa or purchasing or installation of a pool fence.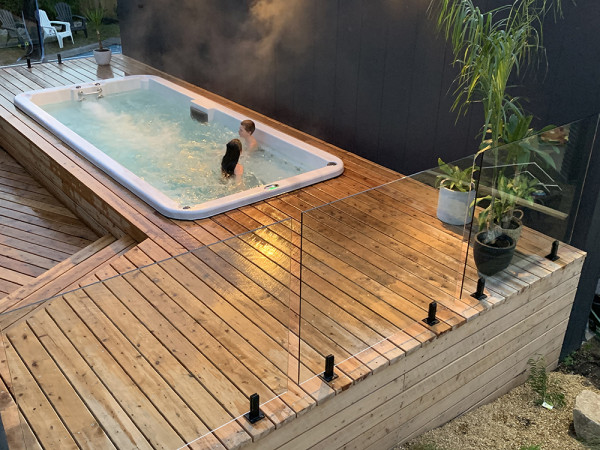 Access
Before the installation day, confirm that your retailer has checked your site and is certain that the delivery truck can reach your property. This includes verifying how the spa will be moved from the truck to the installation site on your property. If the location is difficult to access other plans may have to be made, such as the use of a crane truck, provision of an external crane or in extreme cases additional manpower to carry the spa by hand.