Why should a Spa Pool or Swim Spa be part of your Design Plan?
If you're looking to add a touch of luxury and relaxation to your home, you should consider incorporating a spa pool or swim spa into your design. Spa pools and swim spas come in a variety of sizes, colours and shapes, so there will be something perfect to fit your needs. They are highly customisable and so have a high degree of architectural versatility, which means they can be used in almost any setting. Whether you're building a new home or redesigning your current one, adding a spa is the perfect way to create an inviting and relaxing atmosphere.
Sapphire Spas has extensive experience tailoring complete spa packages to individual needs. We understand that a spa purchase is a big decision and a major part of designing the lifestyle you want. We work closely with you to understand both your needs and your wants and develop a spa package just for you. Each of our locations can assist with general local planning information and connect you with qualified tradespeople in your area who are familiar with spa installations. From planning to delivery, installation, setup, and training, Sapphire Spas can provide everything you need to have your spa delivered and operational as quickly as possible.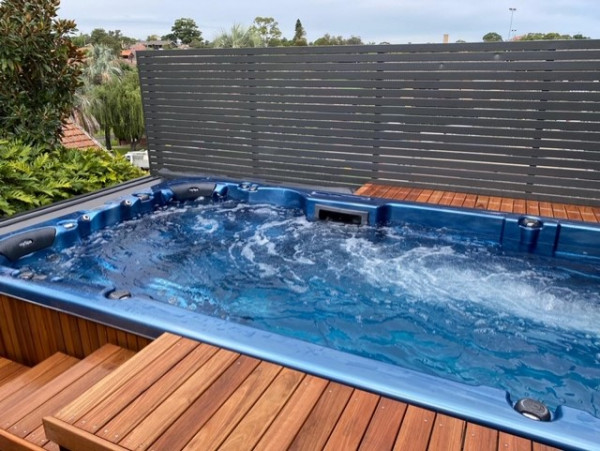 Sapphire Spas Work with You
All elements of the spa you choose can impact your environment, so it's important that you work with a team that understand your design choices. Our professional team will work with you and your architect or designer to select a spa that compliments your design aesthetic and lifestyle.
There are many factors to consider when incorporating a spa into your home, these include accessibility of the installation location, shape and size of the space, existing colours, materials, plants, and other existing house layout and design elements. In addition, the type of spa you choose and your intended use will influence the spa that is best for your space.
Colours to Suit Any Space
There was a time when the colour of a spa could be anything you wanted, as long as it was white and a cabinet, that was extra. This is no longer the case. Sapphire Spas are manufactured on-demand, right here in Australia, this means you can get the spa you want in the colour you want. Plus, all our spas come with a modern and stylish cabinet, so they will fit right in from day one.
Spa Colours
We have a huge range of colours, so there's one to suit any design preference. For something sleek and post-modern, our silverwhite finish is an eye-catching and timeless choice, coupled with the seamless flowing lines of a modern spa, they can add a touch of elegance to any home. For a contemporary modern feel, darker tones such as Mayan copper, espresso or midnight opal are hard to go past with their definitive executive vibe. For spaces that are all about relaxation or blended with nature, our odyssey and ocean swirl colours with gentle textures and blue tones create a peaceful environment.
Cabinet Colours
We also have a range of cabinet colours to choose from whether you want your spa to blend in or stand out. Our Envirogum cabinets are made from European grown plantation timber, they offer a natural look and are extremely durable. For something more contemporary our dark DuraTek cabinet is perfect or if you're looking to make a statement our Canadian red cedar cabinet is an eye-catching stylish finish and has the additional thermal benefits that come naturally from cedar.