heat&cool pump pipe location
When ordering your spa with a heat&cool pump, you will need to select the best position for the pipework to exit the spa cabinet.
Keep the heat&cool pump as close as possible to the spa, but further than minimum 300mm (refer diagram).
NOTE: If distance to heat pump is > 4.5 meters, extension cables will need to be purchased and installed.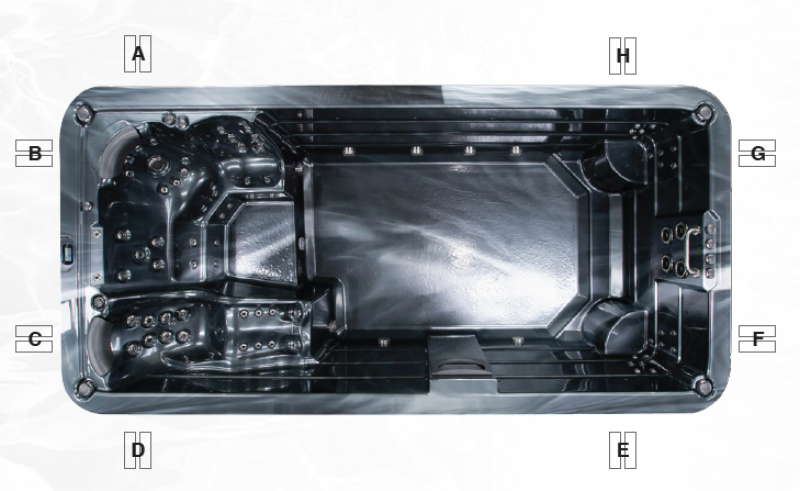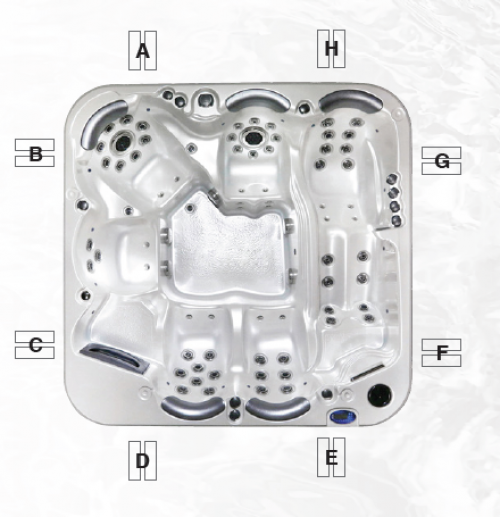 heat&cool pump location considerations
The SV series of heat&cool pumps must be located outside in a clear area where noise and air flow will not be disruptive. The heat&cool pump must be located externally to the spa pool cabinet to allow sufficient air flow for optimum efficiency.
The heat&cool pump MUST be installed according to the air space requirements shown below and the instruction manual supplied with your spa (refer inset image).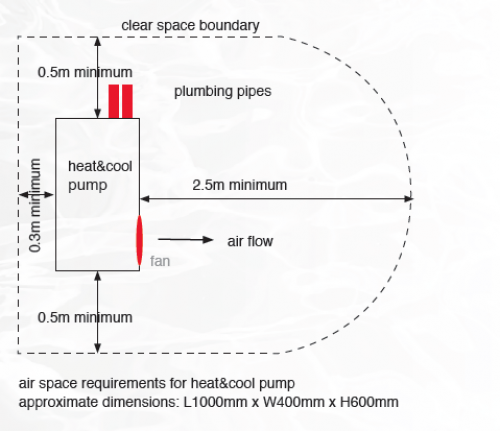 Select a suitable location in accordance with below notes and consult the local swimming pool safety regulations to check the requirements for proximity to other equipment.
1. the heat&cool pump must be situated away from vegetation and obstacles as per diagram.
2. the heat&cool pump must be installed outside, external to the spa cabinet.
3. the heat&cool pump should be mounted on anti vibration mounts on a dead flat/ level base. The base should be a large concrete slab. The base must have sufficient height to prevent entry of water into the bottom of the heat pump. The base must be large and heavy enough to properly secure the heat pump.
4. height must be adjusted to fit the condensation drain pipe work under the heat&cool pump.
5. do not install the heat&cool pump in a confined space to prevent recycling of air.
6. the fan should not blow towards windows, walls or spaces likely to be inhabited by people or animals.
7. do not install where it is likely to be subjected to polluted air, dust or debris etc.
8. the heat&cool pump must operate with a clean air supply.
9. avoid direct fan output against the dominant wind directions.
10. protect the heat&cool pump from possible snow fall.
11. locate heat&cool pump in a place inaccessible by children.